Probax and Veeam provides continuous data protection and data recovery services to grow your MSP business. Download our informative whitepaper now!
---
Author: Admin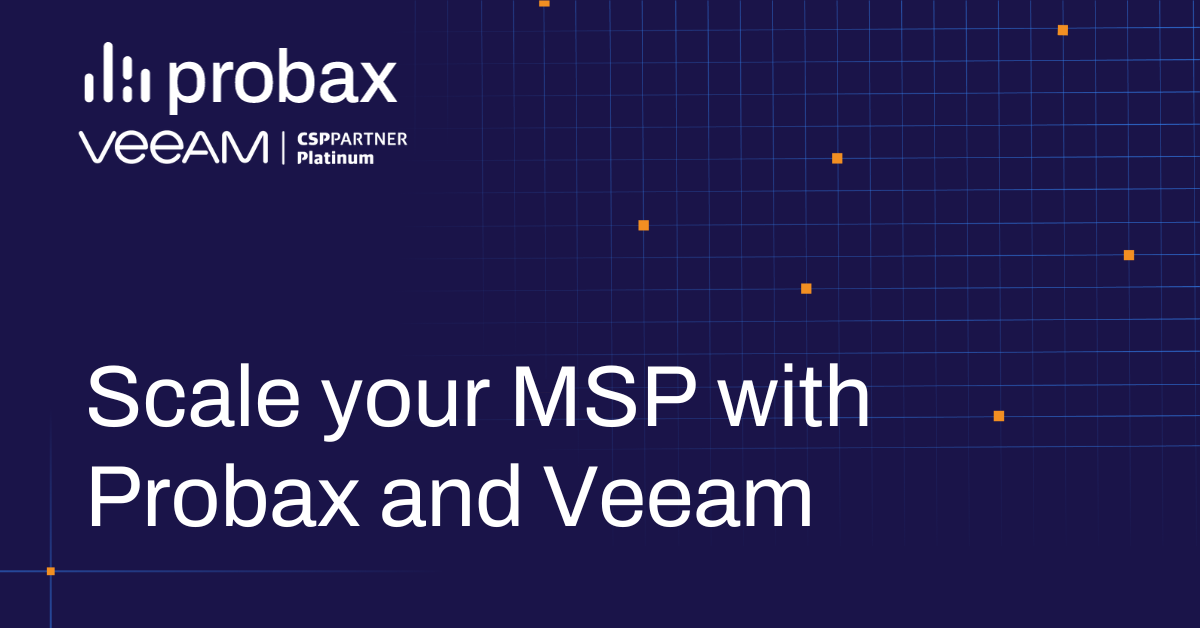 Trust is the cornerstone of your MSP business model. Customers trust you to manage their critical IT services for them and as the MSP you need to constantly manage, maintain and take exceptional care of your customer's environment to keep that trust.
The problem with trust is that it is difficult to earn but easy to lose. The trust customers place in you comes from the ongoing extraordinary effort you put in to keep their systems secure and available. However, as you know, a single incident could break the trust you have worked so hard to build over time.
Building customer trust with Data Protection services
The single largest threat to the trust, which has been created between an MSP and a customer over time, is losing data. Unlike other incidents where recovery is possible, data loss is the one incident for which there is no coming back from. Even if the MSP is not directly responsible for data protection, we all know the burden somehow always falls on the service provider.
However, the flip side of the coin is also true. An MSP who saves the day when disaster strikes instantly gains the customer's trust. If your planning, implementation and execution of a data protection solution bears fruit and prevents data loss, you instantly gain the respect and trust of the customer you saved.
Starting with Cloud Backup and Recovery
The creation of cloud-based backup and recovery services have introduced flexibility and efficiency into the operations of a traditional MSP. The one aspect of traditional backups, which limited what you were able to do with data protection solutions, was the constraint on storage resources. Limited storage meant lower data retention times and longer restore times as you were forced into differential and incremental backups to save storage space.
Cloud-based backup solutions remove this limitation.
Now you can backup what you want whenever you want. Honeycomb Hot Storage and Cold Storage from Probax gives you the flexibility you need to ensure your customers' data is always protected and easily recoverable.
Honeycomb Storage is managed directly from our multi-tenant management console, Probax Hive - which boasts unmatched intelligence, automation, security, monitoring, and reporting capabilities when compared to other management consoles in the market.
Our Probax Hive console is a sophisticated backup management tool which integrates with Veeam's Cloud Connect solution giving you insight and control over the data you need to protect across your client base.
Disaster Recovery as a Service (DRaaS)
You can also grow your MSP business by taking backup and recovery to the next level with our world leading Second Colony DRaaS solution.
As more and more organizations are understanding the business impacts of downtime, the conversation is changing from "can I afford to invest in DRaaS?" to "can I afford not to invest in DRaaS?" that downtime. DRaaS is no longer a premium option - it's a necessity.
Powered by Veeam Cloud Connect Replication, Second Colony allows organizations to replicate their virtualized environment to our enterprise grade infrastructure in any of our 10+ availability zones worldwide. All aspects of an organization's disaster recovery failover plan and environment is configured and managed through Probax Hive. When disaster strikes, one or more replicated VMs can be spun up in our cloud within minutes, providing users with a seamless failover experience and access to the services and applications they need with minimal disruption. More importantly (and where other solutions fail), the failback process is just as seamless.
Why Veeam Cloud Connect
Probax believes in providing the world's leading data protection solutions so that our MSP partners have the best platforms to deploy for their customers. Hence the substantial investment we have made in our partnership with Veeam.
Integration of Veeam Cloud Connect with Probax Hive simplifies traditional deployment and configuration of Veeam Software by allowing data protection services to be delivered faster and easier. Using the in-built intelligence of Hive, all physical and virtual workloads in an environment can be automatically identified and shown. This will, among other things, highlight any new or existing resources that are not protected. For users with minimal knowledge and experience using Veeam, they can take the easy route and use Hive to automatically deploy, license and configure Veeam to protect newly identified workloads. Alternatively, the more experienced users of Veeam can install and configure Veeam themselves like they are used to – the choice is theirs.
Understanding how to overcome the challenges of selling backup
Our informative whitepaper Top 10 Challenges MSPs Face When Selling Backup provides you with all the information you need to grow your backup sales.
Download your copy today!